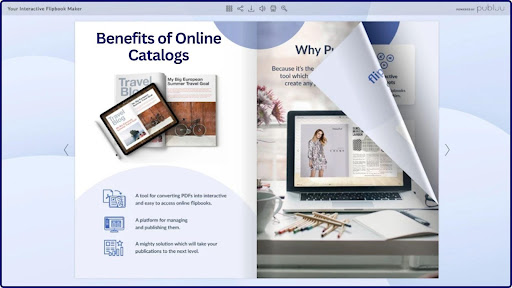 If you want your business to succeed, effective marketing is crucial. The best way to showcase your products and services to potential customers is through an interactive, online catalog.
Introduction to Online Catalogs
An online catalog is a must-have for any e-commerce store. It lets customers browse your products at their leisure without hassle. Customers can flip through products, zoom in on photos, read descriptions, and find exactly what they need. No more clicking and loading separate product pages. You can also take it a step further and create an interactive catalog in the form of a flip book, which we will discuss in the later part of this article.
Advantages of Online Catalogs for Business
There are numerous benefits to using an online catalog for businesses. By creating one, you can reach a wider audience of potential customers. The most important advantages are:
Increased Visibility and Accessibility
It allows potential customers across the world to discover your products and services. With an online catalog, customers can view your offerings anytime, day or night. They are optimized to rank well in search engines like Google, allowing customers to find you more easily. Descriptive product titles, images, and content help search engines understand what you sell.
Enhanced Shopping Experience
By leveraging the advantages of online catalogs, e-commerce businesses can provide an enhanced, personalized shopping experience that keeps customers coming back again and again. Focusing on convenience, ease of use, and visual appeal is key to building customer satisfaction and loyalty.
Cost-Effective Marketing
Using online catalogs in e-commerce provides an inexpensive yet highly effective marketing and sales channel for businesses to connect with customers. The savings in time, money, and resources allow companies to gain a competitive advantage and boost their bottom line.
Improved Organization and Navigation
The searchability and findability provided by an online catalog give customers an optimal shopping experience. They can quickly locate desired products and discover new ones. Because of that, an online catalog is essential for any e-commerce business looking to provide a satisfying customer experience.
Crafting a Flipbook Catalog
If you would like to take your catalog to another level, you should consider creating a catalog in the form of a flipbook, which brings the charm of traditional animation with the convenience of digital technology. Making a flip book catalog is the best way to showcase your products in a visually engaging and user-friendly format. To get started, select a flip book creation platform such as Publuu. Upload your PDF catalog, and customize the appearance by incorporating your branding elements, such as logos and color schemes. Enhance interactivity by adding product tags, allowing customers to click and learn more about each item. Track features like page views and click-through rates to gather valuable insights into customer preferences. Finally, regularly update your flip book catalog to keep it fresh and relevant, ensuring a dynamic and compelling shopping experience for your audience.
Key Features of Flipbooks:
1. Page turning effects
With the help of page curl and flip animations, flip book simulate the experience of flipping through a physical book or magazine, and makes the content more dynamic and engaging.
2. Zooming and panning
To focus on details, readers can zoom in and out of pages, and see every detail of your product.
3. Links and multimedia
Video, audio, slideshows, hyperlinks, and other multimedia can be easily inserted into flipbooks. As a result, you can impress your client with the interactive experience.
4. Customization
A flip book can be completely customized to reflect your brand. You can upload your logo, and choose a static or animated theme from a broad library.
5. Analytics
Analytics are provided by flipbook software so you can see how your content is engaging readers. You can check for example how long readers spend on each page, and which product is the most popular.
6. Versatility
There are many ways to share flipbooks such as embedding them on the website and sharing them on social media platforms as a link or QR code.
Conclusion
Creating a captivating online catalog is now easier than ever, as you can build it without any technical skills using user-friendly tools. If you want to impress your potential customers with interactive and real-life book form, you should also consider making a flip book catalog and providing your business with the platform it deserves.
Follow Technoroll for more!
Editorial Staff of the TechnoRoll, are a bunch of Tech Writers, who are writing on the trending topics related to technology news and gadgets reviews.