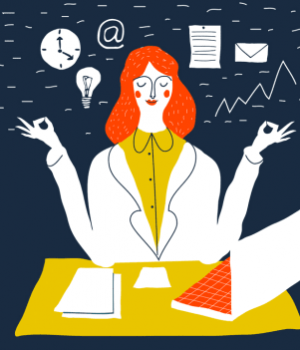 Like many others, did you too think automation was a threat to your job?
The changing technology landscape backed by powerful technologies like artificial intelligence and big data analytics already brought fears in the mind of professionals that their job would soon become obsolete in the near future. Added to this fear is the worsening situation due to the COVID-19 pandemic. It would take time to revive the global demand and many companies have plans to lay off employees along with cost-cutting. Now you have two options looking at the current scenario. You can either wait for the situation to improve and somehow manage with the existing skills or you can upskill/reskill to survive in the times of uncertainties.
Well, quite obviously, everyone would recommend you to go for the second one. Now when every business is severely affected due to pandemic, many are thinking of trying out new options for survival. This is where online learning platforms come into the picture. As universities and other educational institutes have been shut down, professionals and students are turning to eLearning platforms to gain new skills. There are online courses for every area you can imagine – be it photography, supply chain management, banking, cloud computing, data science, software development, or machine learning. There is a growing trend among professionals for taking up online courses to achieve credentials like PMP certification, PRINCE2 certification, ITIL certification, agile certifications, AWS certifications, and more .
Use of eLearning platforms
The popularity of eLearning platforms was growing gradually but it shot up significantly after the pandemic started. Major online training providers like BYJUs, Simplilearn, Vedantu, and Coursera witnessed millions of users signing up to access their course materials and spending quite high study hours on the platforms. What makes these eLearning providers reliable is their course design. Most of the courses are divided into short video modules which keeps the learners engaged throughout the lesson. Moreover, such courses are mentored by highly qualified instructors who have rich teaching experience and know the learner needs quite well. As working professionals have hectic schedules, these short lessons easily fit into their daily routine and they don't find difficulty in following them.
Enhance Your Skillset
Finding opportunities in difficult times and grabbing it is what takes you ahead of your peers. If you haven't explored any eLearning platform yet, start today and enroll in a course of your choice. The pandemic may have locked your doors to physical classrooms but has opened many windows for learning online. Professionals have already started showing a keen interest in upskilling themselves in popular areas like project management, data analytics, artificial intelligence, and cloud computing. Amid this work-from-home scenario, one should make use of this rare opportunity and develop the skills of the future.
Organizational Training
The task of reskilling shouldn't be the sole responsibility of employees, even the organizations should promote corporate training. Many eLearning platforms offer corporate training solutions and firms can tie up with them. By making the courses accessible to all employees through a smartphone, an organization can rapidly reskill its workforce and keep them engaged. This is important because whenever there are key business problems to be solved, organizations turn towards Learning and Development (L&D). Also, it is always convenient for a company to reskill the existing workforce rather than hiring new professionals.
Final Words
Bottom Line – Don't wait for the situation to improve, though you may not get opportunities today but utilize the time to upskill yourself. Being prepared for the future skills can help you stay motivated and get the attention of the hiring managers when the employment rate improves.