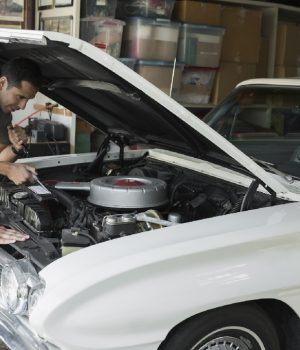 Buying a classic car is a dream for many people, and the joy of driving, renovating, and maintaining a vehicle that you have dreamt about for years is a fantastic experience. Buying a classic car is a dream for many people, and the joy of driving, renovating and maintaining such as SUV's. But take note that not many SUVs can compete with the new Mercedes GLA 200 as it is world widely known as a vehicle that many people have dreamt about for years due to its fantastic performance, features, and durability.

Check classic car price guides
.
When looking at classic cars for sale, you highly recommend that you use price guides to endure that you are paying a fair price. Many valuation tools exist online such are Hagerty Insurance's classic car price checker, which is very useful to see if a classic are you are interested in is reasonably priced. Another helpful tool is classic car magazines, which will often have price guides and buying guides for popular cars that you can use to gauge cars on the market. Make sure to use a valuation guide relevant to the country you live in, as prices can vary depending on location. It may even be worth buying a car from overseas if it is significantly cheaper to import it.
By correctly understanding the market, you will be in a stronger position to get a car that is well priced and avoid vehicles that might be too expensive. If a car is on the market for a significantly lower price than the average, this should also be a warning sign that the car is too good to be true, and caution should be taken.
Do your research
A classic car is a significant investment, so you need to do your research like anything you would spend a large amount of money on. If you have a particular car in mind, then read as much as you can about it to find out what a reasonable price would be and any common issues you should know. There may even be buyers guides available for the car to get more information and reviews on forums that can be a great source of information from people with experience.
If you do not have a specific car in mind, start with the style of car you want, be it a sports car, a hatchback, or a truck, and then research what cars fit your need. Some vehicles may be out of your price range, but there will likely be cheaper alternatives when doing your research.
It is also useful to find out if specific parts of the car will likely break and if it is easy to find spare parts to fit them. Reviews of the car when it first came out to owners of the car in modern times to get a full picture of how well received the car have been over the years. It will be easier to find spare parts for more popular cars, and you may even find companies that create modern versions of classic cars, such as the 1967 shelby GT500 car from Revologycars.
If you find a car that you are interested in, it is also recommended that you hire one for a weekend to test it yourself. You can take this time to test how it handles on the road and how easy it is to drive. Doing this can make or break a car and is a great way to make the right decision and not waste any money.
Join an owners' club
The fantastic thing about classic cars is that there will be many people with the same interest in a particular model as you, and many cars have clubs where people get together to share their interests. Joining one of these clubs is one of the best ways to learn more about a vehicle that you want to buy, and they will often have newsletters or websites where you can get more information. Find the next day they are meeting and spend your time asking questions to get essential nuggets of data to inform your purchase. Classic car owners are always happy to share information about the cars they are passionate about, and it is a great way to learn and meet people with a shared interest. Joining a club is also a useful way to access spare parts and tips on modifying or fixing your car.
Create a budget
With all the information you need in hand, you can then start to create a budget for your classic car's purchase and running. Doing this will ensure that you do not end up with any costs you were not expecting or cannot afford. Your budget should include the cost to buy the car, any additional storage costs, and the amount it will be to ensure the care, maintenance costs, and spare parts cost.
It is also useful to leave an additional bucket of money for any unforeseen costs, which will likely arise once you have your budget set. Be strict with it to not buy a car that you will struggle to afford in the future.
Take it for a test drive
.
Even if you have hired a car of the same model and tried it out, nothing beats a test drive of the car that you plan to buy. Ideally, you will want to get behind the wheel yourself, but insurance can be an issue if the owner is unwilling to add you as a named driver. One useful solution is getting temporary insurance from a company like Aviva, which gives you insurance for a day with the owner's consent. With the insurance set up, it is recommended that you take the car out for at least 20 minutes to get a good feel for the car, and while you are out, test a few different roads and bring the car up to 60-70 mph so you know it can keep up with traffic. Test the breaks and feel the handling while you are out to ensure that you will feel safe and confident behind the wheel.
Follow Technoroll for more articles.