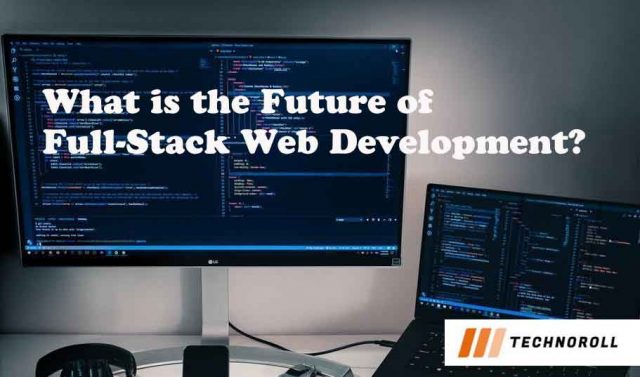 Lately, you could have heard many discussions about the role of full-stack (FS) web developers. While others are pretty sure that full-stack development will last since plenty of companies in different countries are ready to provide these services. Moreover, the teams with proven holistic expertise are in demand and are appreciated by their customers. A case in point would be purrweb.com, which is ranked high by both Clutch and GoodFirms.
But the question remains: do such companies have a future?
How does full-stack web development work?
If you are not tech-savvy or just new to IT with its specific terms, an FS developer is a specialist who can control both sides of a project: back and front. FS specialists can do lots of stuff — work with data, create web or desktop apps, connect server and front-end sides, etc. Therefore, they generally know several programming languages. Considering all these traits, being a programmer, especially a full-stack one, is a real challenge as it requires a lot of skills.
Such specialists are much sought after when it comes to mastering an MVP or launching a web product. They are well aware of the amount of work and what technologies are needed in order to carry out the full development process. Nevertheless, an essential feature of an FS engineer is the ability to handle two components: server and client-side of the product, as well as understand all the tricky points.
What are the main trump cards of full-stack developers?
Since you already know what full-stack engineering is, let's be more precise. To get a clear vision of what these specialists can offer, here is a shortlist of their competitive advantages:
They can work on every step of the project as they know everything about the application or a site, every layer of it;
They have an array of skills and learn rapidly;
Working with them can reduce the development cost of your app or site, as you do not need to hire dozens of professionals;
They can create your product quickly;
You save time and effort as you do not need to communicate with many teams to launch your product.
Of course, every concept has its drawbacks, and so does FS development. Among the disadvantages is the high dependence on the qualification level and the skill set of the particular developer. If they choose the wrong technology for your site or app, you will end up wasting time while waiting for everything to be done appropriately. That's why it is important to choose an experienced team to carry out your project. This will guarantee a high quality of service. Some believe that their skills are obsolete, and it is almost the end of the full-stack web development era.
Do these specialists have a future?
While we have discussed the key points of being a full-stack specialist, you might be wondering what the trends are.
If you think full-stack development is something new, you are wrong. Actually, the term did not exist, but the professionals did. They were simply called "developers" with no prefixes. The applications and sites were created from scratch by a single person — someone who could have been called a full-stack developer today.
At some point, many started to think that the demand for these professionals would freeze or even decrease. However, the new generation of specialists has changed the development paradigm, bringing about a fundamental change in the software development process. Developers that can solve any problem are in demand. And being more effective than a big team of programmers is what makes full-stack developers so valuable in the job market.
Speaking of salaries, full-stack developers earn a lot. There were a couple of surveys on this topic, and the average salary of a full-stack developer in 2020 is around $91 thousand per year. Also, these developers often say that they are satisfied with their job, which is another important aspect to consider. In fact, a full-stack developer is among 37% of careers with the highest happiness rate. Sounds pretty exciting, isn't it?
Obviously, the pay rate depends on the region. The exact salary may depend on many factors, but no matter where you live, as a full-stack specialist, you will earn a lot. If you check your local sites that offer jobs in IT, we are almost sure that you will find some offers with quite high salaries.
Can I learn to become a full-stack engineer?
Sure! Every profession begins with training. Plenty of courses are available, including online ones, and they can help you acquire the necessary skills. A good option is to start getting to grips with the basics via Coursera or Udemy. Both have a dedicated selection of courses for specialists of various expertise levels.
However, do not try to learn everything, know what you are after, and focus on what is most important for you. IT is known for being welcoming to everyone, so your background does not matter as much as your actual skills, and it is a huge advantage of the sphere when compared to more conservative careers.
To succeed in the field, you will need to have various skills, including HTML, some back-end languages (for example, Python or PHP), web architecture, and many others.
FS development is trending, even according to Google, but the IT market is still not overwhelmed. Even though you can find plenty of courses to take, not all alumni actually find a job. And, of course, to earn a lot, you will need experience. The competition among newcomers can be tough, but with the right skillset and attitude, you can have an amazing career in IT.
Final word
Despite the beliefs of many skeptics, the prospects of full-stack developers look pretty bright. It takes a lot to become a professional. However, the more time you dedicate to the development of your skills, the more you can achieve in the future. There are many advantages for you to pick this job, and you will depend only on yourself.
If you think of hiring someone to fulfill your projects: site or application — consider full-stack developers. With all the advantages discussed above, they will remain a win-win solution, saving your money.
Unless the Internet is going to vanish (and it is very unlikely!), full-stack web developers will remain in demand for years to come.
Editorial Staff of the TechnoRoll, are a bunch of Tech Writers, who are writing on the trending topics related to technology news and gadgets reviews.