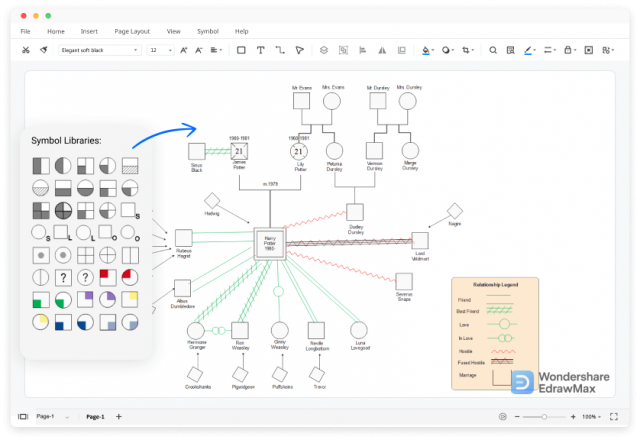 Lead-in Part
A genogram is a graphical illustration of a person's entire family history regarding relationships among family members based on medical and mental health issues. A detailed genogram outlines how an individual is related to the other family members and everyone's medical history in general.
When doctors or genogram experts create a genogram, they tend to understand the hereditary patterns of behavior and medical and important psychological factors that affect the entire family tree. With the help of genograms, it becomes easier for the experts to work around the key people in an individual's life and their respective relationships with one another. In addition, to understanding medical history, genograms are often used to understand the realm of social work in any group or members of a particular community.
Typically, a detailed genogram includes the grandparents (paternal and maternal), their children, and their grandchildren. This helps the experts identify the root cause of any major issue in a particular individual of that family tree.
This guide to drawing genograms easily will help you understand what one needs to do before they set out and begin drawing genograms in tools like EdrawMax, and how this powerful genogram software helps students with free genogram templates.
What to Do Before Creating a Genogram?
Before you set out to draw a genogram for yourself or your patient, there are a couple of important parameters that you need to work on. For instance:
Deciding on End Results: If you have already understood the result of drawing a genogram, it would be helpful for you when you set out to collect relevant information about the individuals. Remember, genograms focus on hereditary patterns like physical violence, mental illness, substance abuse, etc. So, you will need a proper guide in place as to what you expect to learn from the Genogram.
Outlining the family: Genograms are similar to family trees, so you must clearly outline the entire family's details. For instance, learn who all are married, divorced, and widowed. You can also outline the details of kids from each union, their qualities, and their relationship with one another.
Understanding Demographics: Remember that demographics play a vital role in creating a genogram. More importantly, they are extremely helpful when it comes to understanding the pattern in a family. As you set out to outline the family details for the Genogram, ensure that you are considering the demographic and family's lifestyle before coming up to any conclusion.
Details on Generations: It will give you a clear idea of whom to approach for any particular information. If you are planning to add three generations to a genogram, you will know that you must contact the paternal and maternal grandparents.
Best Genogram Software: Making a genogram might become tedious if going ahead with pen and paper. Additionally, without the right genogram software, managing three generations of a family would also become complicated. It is advised to use good genogram software, like EdrawMax, as you set out to create a genogram.
How to Draw a Genogram Effortlessly
EdrawMax is the best genogram software for beginners and professionals. The first step you must follow is to download this free genogram software to your system. If you plan to access the online version, head to EdrawMax Online and sign up using a registered email address. Once you are in the system, adhere to the following steps to draw a genogram effortlessly:
Launch EdrawMax: Once logged in to the system, you will see several diagram types. Head to 'Education' and click on 'Science and Education.' Here you will find different science-related diagrams, like Mechanics, Human Organs, Biology, Molecular Models, and more. Click on Genogram to access pre-built templates, or click on '+' to draw a genogram from scratch.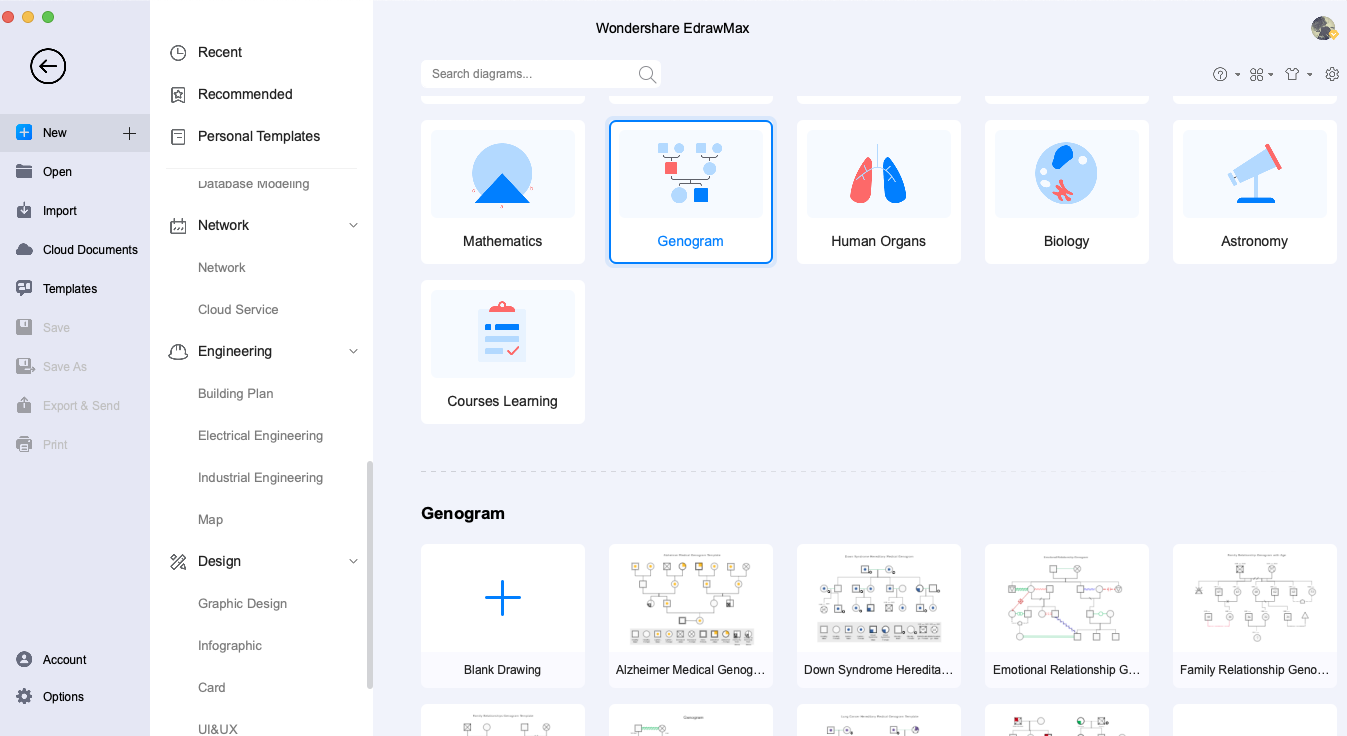 Access Templates: EdrawMax has a built-in template community that offers a wide range of free templates. Head to the 'Templates' section and look for a genogram. Here, you will find user-generated genogram templates, like Family Relationship Genogram with Genogram Symbols, Genogram Attributes, Medication Genograms, Career Genograms, Community Genograms, and more. As a registered EdrawMax user, you can access all of these templates and customize them to the fullest.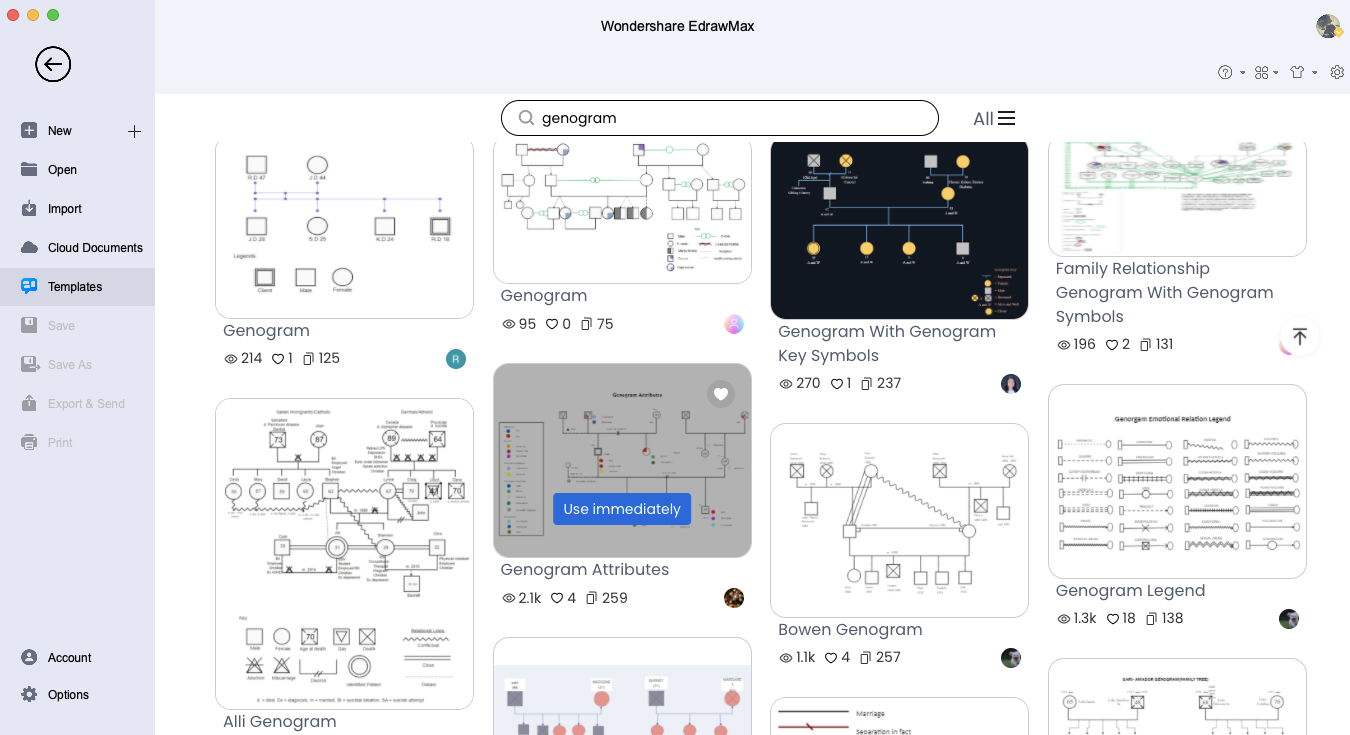 Add Elements: Once you have finalized the basic outline of the Genogram, start placing the family members, their respective relationships with one another, their current age or age of their demise, their mental health, and more such details. Ensure that you add genogram legends at the end of your diagram, suggesting the meaning of the colors, symbols, lines, emotional relation legend, and more.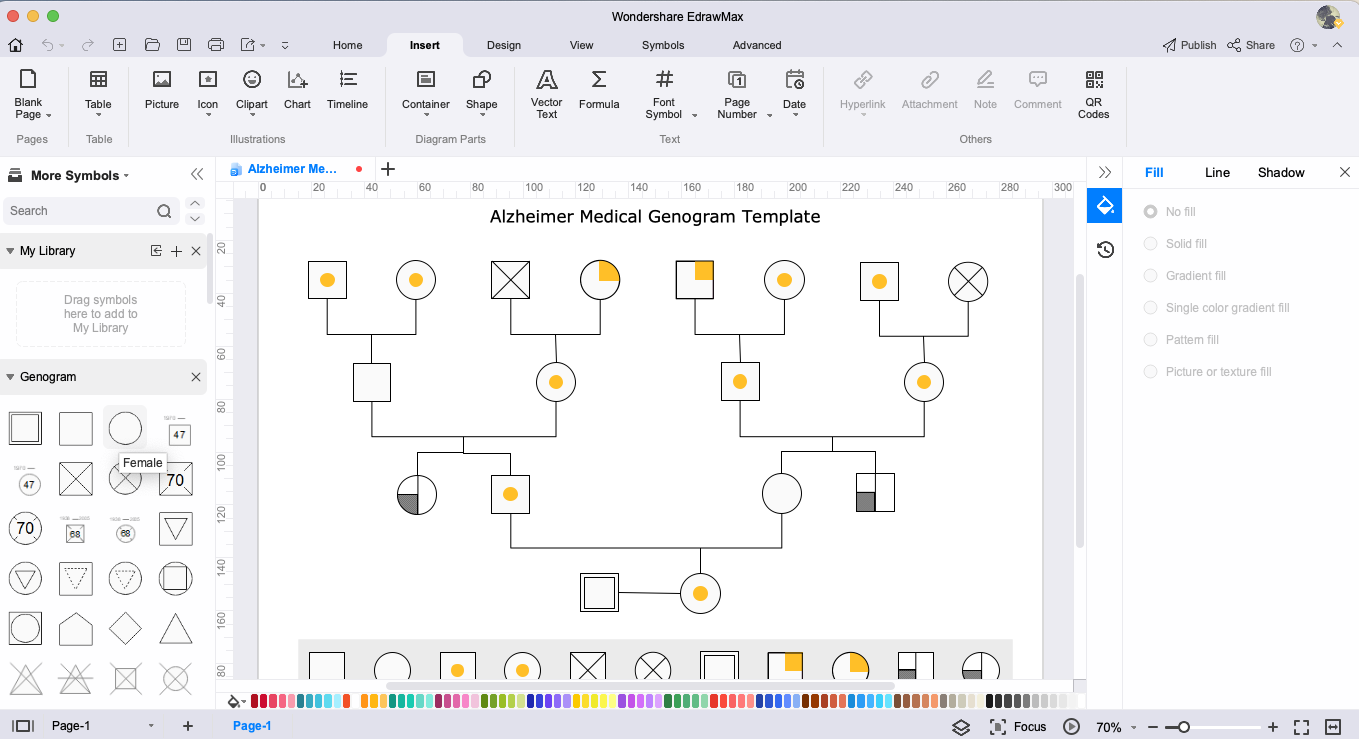 Export & Share: After drawing the Genogram effortlessly, you can export it in formats like Graphics, Office, HTML, and more. In addition, the Genogram can also be shared with the online community or with a colleague via email.
Free Genogram Software
EdrawMax is a highly recommended diagramming tool. Some of the most staggering features of this free genogram software are:
Built-in templates: Every registered account holder of this free genogram software can access the built-in templates. These templates are created by professionals and adhere to genogram guidelines suggested by GenoPro.
Industry-Standard Symbols: Symbols and legends play a very important part when it comes to creating a genogram. Thankfully, this free genogram software comes with all the relevant genogram symbols, like square for male, circle for female, diagonal cross for death, triangle for pregnancy/miscarriage/abortion, and more.
Connectivity Tools: EdrawMax is created on vector and allows the users to work on an unlimited canvas board. In addition, the automated formatting feature allows the user to update the Genogram as per the requirement without worrying too much about the formatting or outlining of the entire Genogram.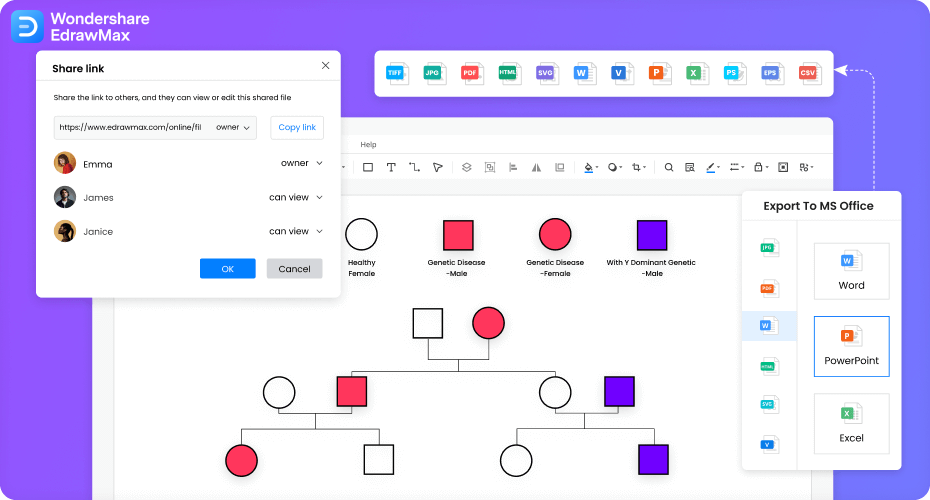 Export Options: With this free genogram software, you can export your Genogram to multiple formats, like JPEG, PNG, SVG, HTML, VSDX, EDDX, and more. Additionally, you can also create a slideshow of your Genogram.
Final Thoughts
Genograms play a very important part when it comes to understanding why an individual reacts to a certain situation. It also helps understand the family history regarding medical, career choices, lifestyle reasons, and more. With free genogram software like EdrawMax, you can easily create highly complex genogram diagrams. From free genogram templates to symbols, template communities, online resources, and a user-friendly user interface, EdrawMax is a great tool for drawing genograms effortlessly.
Follow Technoroll for more!
Editorial Staff of the TechnoRoll, are a bunch of Tech Writers, who are writing on the trending topics related to technology news and gadgets reviews.