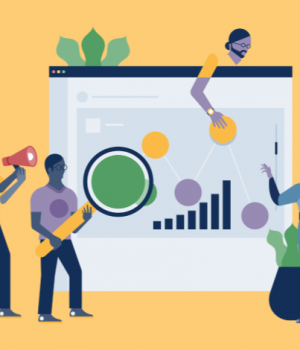 The year 2021 has cemented scores of changes in our lives, particularly in the professional aspect. Webinars have become regular events, and Zoom meetings have become the default. But what is very striking is how social media has become the go-to place to find career opportunities, learn, and even grow our brands. It highlights the ballooning importance of social media marketing and the need for brands to refocus their marketing strategies.
With social media, marketers can connect and engage target customers whether they are on Twitter, LinkedIn, Facebook, YouTube, Instagram, and even TikTok. With the ability to generate engaging content and a strong social media strategy, marketers can engage their potential audience.
In 2022, social media will remain one of the main strategies, and companies can always create ways to advance their marketing approach.
What Is Social Media Marketing
Social media marketing is the new trend that uses social media and social networks to market business entities' goods and services. It provides these companies a platform to engage with their existing customers and get in touch with new ones. It allows businesses to promote their mission, desired culture, or tone.  
Why You Need Social Media Marketing Today
Businesses need social media marketing for many reasons. Here are some of them:
Improved brand awareness

Cost-effective

Engage with your customers

Improved brand loyalty

Healthier customer satisfaction

Marketplace awareness
Businesses need social media marketing for a lot of reasons. Here are some of them:
1. Improved brand awareness
According to more than 91% of marketers, just by spending a few hours every week, their social marketing efforts have tremendously boosted their brand visibility and improved user experience. 
2. Cost-effective
In advertising, the most cost-effective way is possibly social media marketing. Lesser advertising cost means greater return on investment. 
3. Engage with your customers
Engagement and interaction with customers give you a bigger chance of a conversion, both from the old and newly acquired market. 
4. Improved brand loyalty
Your social media presence gives you a chance to connect with your customers, thus giving you an edge for customer retention and loyalty.
5. Healthier customer satisfaction
You can enhance your overall brand image by giving your customers modified replies instead of automated messages every time they post comments on your page. Social media is both a networking and communication channel.
6. Marketplace awareness
You can understand customers' opinions and interests just by observing the activities of your social media profiles. It is a complementary research tool that can help you know more about your industry.
9 Cool Tools Every Social Media Marketer Should Watch Out For This Year
Tools You Can Use For Social Media Campaign Content Creation 
Erase.bg is a smart Al background removal tool and an image editor. It allows its users to edit single or bulk images with precision and save them in all sorts of formats, resize them in different aspect ratios, and alter their backgrounds.
Specifically, you can take advantage of the following functionalities of Erase.bg: (1) remove objects, (2) effects and filters, (3) social media integration, (4) cloud storage, and (5) import from the web.
As for its pricing model, Erase.bg is free of charge. What a good deal!
DesignStripe is a simple but powerful customization tool that you can use in creating excellent illustrations even if you lack design skills.
The key features of DesignStripe are (1) machine learning, which helps in the improvement of user experience using artificial intelligence, (2) remote access that allows you in accessing files from various devices; and (3) asset management, your source of help in managing the lifecycle of the physical assets of the organization.
For its pricing model, DesignStripe offers free-to-use. The features available for free usage include unlimited access to its freestyle, an icon to create, full-screen customization, icon to download, and JPG and PNG downloads.
You can also opt to subscribe to its packages. It will cost you $20 per month and enable unlimited access to all styles, icons to create, full-screen customization, icons to download, and JPG, PNG, and SVG downloads.
Al Writer is software that you can use for your blogs, general text generation, search engine optimization (SEO), and AI copywriting software. Aside from helping you generate text, it can also help you reword text. For example, if you wish to reuse any article you have written in the past using a text spinner, Al Writer can do that for you as it is a content rewriting tool. It can reword an old article on your behalf.
Its main features are the following:
Research and Write – you will never have to redraft another article from scratch. You will start with just a headline, and then the software will generate unique article drafts.

Text Rewording – this got you covered if you want to re-publish a particular piece of content that you've already posted. You can submit the article, wait for a couple of minutes, and your original article will automatically be reworded.

Verifiable Citations – with this feature, you can always generate content with accurate information. This tool will provide you with a list of sources and citations that you can verify manually for accuracy.

SEO-Focused Text Editor – if you want to write your text from scratch, Al Writer's SEO Editor can help you dig up the right words, especially those Google is looking for.
For its price model, you can select from its Basic Plan ($29 per month), Standard Plan ($59 per month), and Power Plan ($375 per month).
Icons 8 is a graphic software tool. With this software, you will have access to its library of more than 180,000 photos, icons, vectors, and interface illustrations. It has sophisticated editing tools that allow you to express your creative side and tons of design features without charge.
With this online graphic design software, you can design your clipart using high-quality icons, photos, illustrations, backgrounds, and AI-generated faces. You can select from many social media templates for Twitter, Facebook, YouTube, and Pinterest.
For the pricing, it has a free plan, a monthly fee of $13 each for photos, icons, illustrations, and music, a monthly fee of $19 for icons and illustrations, and a full set for $29 per month.
DrawKit is a design tool that can help you in creating illustrations to make your social media posts more effective and eye-catching. With the DrawKit, you will have access to a stockpile of fully customizable illustrations available in two styles.
DrawKit provides you with free drawn-by-hand icons, vectors, and illustrations. You can use the illustrations that it offers for free and at a just price at any project without being required to give attribution to anyone. On the other hand, there are also paid items on the website. These items start at a minimum price of $3, but you can arrange an amount you wish to pay for these items.
Removal.ai is an Al-powered background removing tool that you can use to enhance your products' pictures. The tools isolate an image's foreground pixels and separate them from the background.
Removal.ai, with its Al-powered futuristic features, offers fully customizable images that you can use. Its instant background removal facility allows you to create transparent, white, or customizable backgrounds for images in less than three seconds.
For its pricing model, Removal.ai offers a free account, a monthly subscription of $0.07 per image, and $0.48 per image.
Text Blaze is another essential tool that you can use for your social media marketing. Using Text Blaze, you can avoid repetitive mistakes and typing. You can also try its easy-to-use templates. They have powerful automation and can be customized without limit.
Text Blaze can dramatically increase your work speed. Its snippets help you improve your consistency and productivity, and you can also share them with any team member. You can also import snippets quickly from other applications or save a text "snippet" as a template to assign a shortcut. So, whenever you are using Chrome, you can type your created shortcut, and the text snippet will substitute it. Text Blaze works on Gmail, Google Docs, LinkedIn, Salesforce, and wherever else you may be.
For the pricing model, you can either choose Text Blaze's free version or pay the starting price of $2.99 per month.
Pixelixe is another helpful tool if you are handling different social media channels that require various image dimensions. You can use Pixelixe if you are looking for a tool that can help you in the creation of design sets or generation of visuals in different sizes in a single go.
You can directly use this graphic designing tool from your browser for free. You can create images for your marketing campaigns and promote your brand across various social media platforms, websites, blogs, and other digital channels.
It also has a Studio Graphic tool which is useful for non-designer users who want to produce graphics with the same simplicity as creating slides. Users do not need to register or create an account to get started on Pixelixe. You can directly access its extensive database of more than 850,000 images and photos, more than 700 icons, more than 900 fonts, and more.
Pixelixe's export feature lets you export graphics in various file types such as JPEG, PNG, or even HTML. To begin, all you have to do is choose from a variety of custom preset templates, adjust the graphics, and download the image with a single click.
For its pricing model, you can select from the following: Pixelixe Create ($9 per month), Pixelixe Automate ($49 per month), Pixelixe Scale ($99 per month), and Pixelixe Enterprise ($249 per month).
Pixelied is an online graphic designing suite. This tool is being used and trusted by more than 15,000 international brands in different parts of the world. You can use it in replacing backgrounds and retouching product-based images. You can also depend on this tool for generating branded designs for your brand's social media accounts, blog posts, and other tools for content publishing.
Pixelied contains a vast and comprehensive library of ready-made templates. You can also use its millions of royalty-free stock images without being limited by usage rights.
You can use Pixelied for free or avail of its Pro subscription that will cost you $7 per month billed yearly for its pricing model.
Takeaway
Indeed, social media has the power to influence customers' buying behavior.
Businesses and brands can no longer ignore this fact. Thus, it also cannot be denied that social media marketing has many advantages for both startups and established brands. You need to regularly update the right strategy for social media marketing to attain better SEO, increased traffic, healthier customer satisfaction, improved brand loyalty, and a lot more.
Since your competition in social media is continuously growing every day, you have to gear up and use the best tools available to make your brand stand out. Do not let your competitors beat you by actively taking probable customers. You can start doing your part by making the best social media marketing strategy and utilizing any of the above tools that we have recommended.
Author's Bio:
Gary Azarcon is an Outreach specialist of Saaslaunchr.com, a digital marketing company for SaaS offering SaaS SEO, content marketing, and guest posting. He specializes in link building and email marketing.
Follow Technoroll for more!